Terms of Service Generator
If you're not a lawyer, creating a Terms of Service to protect your company and customers can be a serious headache.
Our free Terms of Service Generator can help make sure your business complies with the law and encourages customer trust. Fill in the fields below and we'll generate for your company a personalized website Terms of Service agreement.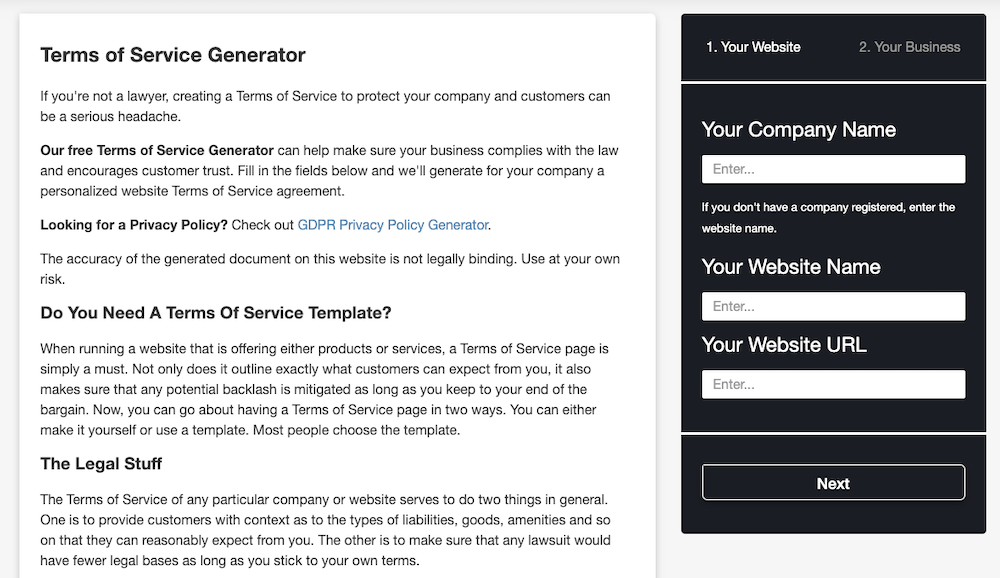 Looking for a Privacy Policy? Check out GDPR Privacy Policy Generator.
The accuracy of the generated document on this website is not legally binding. Use at your own risk.
Do You Need A Terms Of Service Template?
When running a website that is offering either products or services, a Terms of Service page is simply a must. Not only does it outline exactly what customers can expect from you, it also makes sure that any potential backlash is mitigated as long as you keep to your end of the bargain. Now, you can go about having a Terms of Service page in two ways. You can either make it yourself or use a template. Most people choose the template.
The Legal Stuff
The Terms of Service of any particular company or website serves to do two things in general. One is to provide customers with context as to the types of liabilities, goods, amenities and so on that they can reasonably expect from you. The other is to make sure that any lawsuit would have fewer legal bases as long as you stick to your own terms.
Although it is a rare customer who would actually spend time to look into the details, there are those who want to make sure that they understand what they are getting themselves into. These types of customers can also be notorious for going the extra mile in holding companies or websites accountable even if they have to use legal means to do so.
Any Benefits for Having a Terms of Service?
Aside from covering your behind in case a customer gets it into their heads to sue, one of the benefits of using Terms of Service templates is that you don't have to be a legal expert to draft one up anymore. You can just copy and paste, although you do have to make sure that the template in question has the right wordings to suit your website.
Not only will this help you avoid those pesky legal hooks that you might need to contend with if you write the terms yourself, it will also save you a lot of time. In the case of legal experts, you also save money.
From Scratch Or Template?
You really have to look into the benefits of having a Terms of Service write-up that you made yourself and the advantages you get with a template objectively. Obviously, the latter comes with the convenience factor and it saves money. However, writing the terms from scratch does offer quite a bit of useful additions.
For one thing, you can customize it with the specific needs of your website, if there is any, so that you are truly covered in terms of legality. It also saves you from potential embarrassment that mistakes from copy/paste templates might bring.
Preview Your Terms of Service
Website Terms and Conditions of Use
1. Terms
By accessing this Website, accessible from Website.com , you are agreeing to be bound by these Website Terms and Conditions of Use and agree that you are responsible for the agreement with any applicable local laws. If you disagree with any of these terms, you are prohibited from accessing this site. The materials contained in this Website are protected by copyright and trade mark law.
2. Use License
Permission is granted to temporarily download one copy of the materials on Company Name 's Website for personal, non-commercial transitory viewing only. This is the grant of a license, not a transfer of title, and under this license you may not:
modify or copy the materials;
use the materials for any commercial purpose or for any public display;
attempt to reverse engineer any software contained on Company Name 's Website;
remove any copyright or other proprietary notations from the materials; or
transferring the materials to another person or «mirror» the materials on any other server.
This will let Company Name to terminate upon violations of any of these restrictions. Upon termination, your viewing right will also be terminated and you should destroy any downloaded materials in your possession whether it is printed or electronic format.
3. Disclaimer
All the materials on Company Name 's Website are provided "as is". Company Name makes no warranties, may it be expressed or implied, therefore negates all other warranties. Furthermore, Company Name does not make any representations concerning the accuracy or reliability of the use of the materials on its Website or otherwise relating to such materials or any sites linked to this Website.
4. Limitations
Company Name or its suppliers will not be hold accountable for any damages that will arise with the use or inability to use the materials on Company Name 's Website, even if Company Name or an authorize representative of this Website has been notified, orally or written, of the possibility of such damage. Some jurisdiction does not allow limitations on implied warranties or limitations of liability for incidental damages, these limitations may not apply to you.
5. Revisions and Errata
The materials appearing on Company Name 's Website may include technical, typographical, or photographic errors. Company Name will not promise that any of the materials in this Website are accurate, complete, or current. Company Name may change the materials contained on its Website at any time without notice. Company Name does not make any commitment to update the materials.
6. Links
Company Name has not reviewed all of the sites linked to its Website and is not responsible for the contents of any such linked site. The presence of any link does not imply endorsement by Company Name of the site. The use of any linked website is at the user's own risk.
7. Site Terms of Use Modifications
Company Name may revise these Terms of Use for its Website at any time without prior notice. By using this Website, you are agreeing to be bound by the current version of these Terms and Conditions of Use.
8. Governing Law
Any claim related to Company Name 's Website shall be governed by the laws of Country without regards to its conflict of law provisions.
Источник
Free Terms and Conditions Generator
Create a free terms and conditions agreement (aka terms of use or terms of service) for your website or app to better protect your business.
Select your platform to get started:
Online Terms and Conditions Generator Features
Made for Your Business
Generate terms and conditions designed for your blog, website, app, SaaS, or ecommerce site. Establish guidelines and rights for your platform.
Customizable
Don't settle for generic terms and conditions when you can customize the look and feel of your terms to match the unique style of your website or app.
Free Web Hosting
Termly will host your terms and conditions for free! Just place a link on your site to make your terms and conditions page available to users.
The Best Free Terms and Conditions
Generator Online
About Our Terms and Conditions Agreement Generator
Not sure how to create terms and conditions for your business? With our generator, you can easily make terms and conditions online. In minutes, generate terms that protect your:
Blog
Website
Mobile App
Ecommerce site
Online shop/store
SaaS
Trusted by thousands of companies worldwide, Termly's intuitive software generates terms and conditions for any business in minutes. Don't put your business at risk when protection is free.
Protect Your Business with Terms and Conditions
Take advantage of our website terms and conditions generator to help your business limit liability, combat legal disputes, and establish jurisdiction. Make terms that include:
Terms of use
Intellectual property rights
Digital Millennium Copyright Act notice and policy
Prohibited activities
Termination clause
Governing law
Our free terms and conditions generator is your one-stop solution to better protecting your blog, app, or website — generate one today for FREE!
Источник
Terms of Use Generator
Generate a personalized Terms of Use agreement
You can protect your business from various liabilities by using a Terms of Use agreement for your website or mobile app.
Our Terms of Use Generator allows you to create this legal agreement in a few minutes.
It really looks like TermsFeed has the best platform out there.
Jul 9, 2021 — Brent C. generated legal policies.
I have used TermsFeed a couple of times and I am very happy with the results each time.
Jul 9, 2021 — Selina J. generated legal policies.
Articles about Terms of Use from our blog
Terms of Use & Privacy Policy for SaaS Apps
Learn what clauses the Terms of Use agreement for a SaaS apps needs and why it's important to have these clauses.
Terms of Use Clauses for User-Generated Content
Learn what clauses the Terms of Use agreement should have for a website or a mobile app that hosts user-generated content.
Effective Date in Privacy Policy and Terms of Use
Learn why the «Effective Date» is necessary to be added in your Terms of Use and Privacy Policy agreements.
Источник
Terms & Conditions Generator
Every website & app needs a Terms and Conditions.
About Our Terms & Conditions Generator
Terms & Conditions are also known as Terms of Service and Terms of Use. These «terms» are essential the same legal document but under a different name.
A Terms & Conditions agreement is not a legally required document (this is true only for the Privacy Policy), but it can be an extremely useful legal document to have on your website or app. Through a Terms & Conditions agreement, you can limit your liability, protect your intellectual property and add more protection for your business.
A Terms and Conditions agreement can cover many situations that most website or app owners would like to cover:
Terms & Conditions to inform visitors that the website or app is the intellectual property of the website or app owner.
Terms & Conditions for ecommerce stores to set out the rules for paying for products & services, refunds, shipping policy and others.
Terms & Conditions for user accounts for any website or app where users can create an account.
And many others.
The accuracy of the generated terms & conditions agreement is not legally binding. Use at your own risk.
Privacy Policy Generator
Every website needs a Privacy Policy to comply with the GDPR, CCPA and CalOPPA laws.
Terms & Conditions Generator
Every website needs a Terms & Conditions agreement to protect the business and its intellectual property.
Disclaimer Generator
Every website needs a Disclaimer for external links, user-generated content, fitness information and more.
Terms & Conditions Generator Preview
Welcome to Website Name !
These terms and conditions outline the rules and regulations for the use of Company Name 's Website, located at Website.com .
By accessing this website we assume you accept these terms and conditions. Do not continue to use Website Name if you do not agree to take all of the terms and conditions stated on this page.
The following terminology applies to these Terms and Conditions, Privacy Statement and Disclaimer Notice and all Agreements: "Client", "You" and "Your" refers to you, the person log on this website and compliant to the Company's terms and conditions. "The Company", "Ourselves", "We", "Our" and "Us", refers to our Company. "Party", "Parties", or "Us", refers to both the Client and ourselves. All terms refer to the offer, acceptance and consideration of payment necessary to undertake the process of our assistance to the Client in the most appropriate manner for the express purpose of meeting the Client's needs in respect of provision of the Company's stated services, in accordance with and subject to, prevailing law of Netherlands. Any use of the above terminology or other words in the singular, plural, capitalization and/or he/she or they, are taken as interchangeable and therefore as referring to same.
Cookies
We employ the use of cookies. By accessing Website Name , you agreed to use cookies in agreement with the Company Name 's Privacy Policy.
Most interactive websites use cookies to let us retrieve the user's details for each visit. Cookies are used by our website to enable the functionality of certain areas to make it easier for people visiting our website. Some of our affiliate/advertising partners may also use cookies.
License
Unless otherwise stated, Company Name and/or its licensors own the intellectual property rights for all material on Website Name . All intellectual property rights are reserved. You may access this from Website Name for your own personal use subjected to restrictions set in these terms and conditions.
Republish material from Website Name
Sell, rent or sub-license material from Website Name
Reproduce, duplicate or copy material from Website Name
Redistribute content from Website Name
This Agreement shall begin on the date hereof.
Parts of this website offer an opportunity for users to post and exchange opinions and information in certain areas of the website. Company Name does not filter, edit, publish or review Comments prior to their presence on the website. Comments do not reflect the views and opinions of Company Name ,its agents and/or affiliates. Comments reflect the views and opinions of the person who post their views and opinions. To the extent permitted by applicable laws, Company Name shall not be liable for the Comments or for any liability, damages or expenses caused and/or suffered as a result of any use of and/or posting of and/or appearance of the Comments on this website.
Company Name reserves the right to monitor all Comments and to remove any Comments which can be considered inappropriate, offensive or causes breach of these Terms and Conditions.
You warrant and represent that:
You are entitled to post the Comments on our website and have all necessary licenses and consents to do so;
The Comments do not invade any intellectual property right, including without limitation copyright, patent or trademark of any third party;
The Comments do not contain any defamatory, libelous, offensive, indecent or otherwise unlawful material which is an invasion of privacy
The Comments will not be used to solicit or promote business or custom or present commercial activities or unlawful activity.
You hereby grant Company Name a non-exclusive license to use, reproduce, edit and authorize others to use, reproduce and edit any of your Comments in any and all forms, formats or media.
Hyperlinking to our Content
The following organizations may link to our Website without prior written approval:
Government agencies;
Search engines;
News organizations;
Online directory distributors may link to our Website in the same manner as they hyperlink to the Websites of other listed businesses; and
System wide Accredited Businesses except soliciting non-profit organizations, charity shopping malls, and charity fundraising groups which may not hyperlink to our Web site.
These organizations may link to our home page, to publications or to other Website information so long as the link: (a) is not in any way deceptive; (b) does not falsely imply sponsorship, endorsement or approval of the linking party and its products and/or services; and (c) fits within the context of the linking party's site.
We may consider and approve other link requests from the following types of organizations:
commonly-known consumer and/or business information sources;
dot.com community sites;
associations or other groups representing charities;
online directory distributors;
internet portals;
accounting, law and consulting firms; and
educational institutions and trade associations.
We will approve link requests from these organizations if we decide that: (a) the link would not make us look unfavorably to ourselves or to our accredited businesses; (b) the organization does not have any negative records with us; (c) the benefit to us from the visibility of the hyperlink compensates the absence of Company Name ; and (d) the link is in the context of general resource information.
These organizations may link to our home page so long as the link: (a) is not in any way deceptive; (b) does not falsely imply sponsorship, endorsement or approval of the linking party and its products or services; and (c) fits within the context of the linking party's site.
If you are one of the organizations listed in paragraph 2 above and are interested in linking to our website, you must inform us by sending an e-mail to Company Name . Please include your name, your organization name, contact information as well as the URL of your site, a list of any URLs from which you intend to link to our Website, and a list of the URLs on our site to which you would like to link. Wait 2-3 weeks for a response.
Approved organizations may hyperlink to our Website as follows:
By use of our corporate name; or
By use of the uniform resource locator being linked to; or
By use of any other description of our Website being linked to that makes sense within the context and format of content on the linking party's site.
No use of Company Name 's logo or other artwork will be allowed for linking absent a trademark license agreement.
iFrames
Without prior approval and written permission, you may not create frames around our Webpages that alter in any way the visual presentation or appearance of our Website.
Content Liability
We shall not be hold responsible for any content that appears on your Website. You agree to protect and defend us against all claims that is rising on your Website. No link(s) should appear on any Website that may be interpreted as libelous, obscene or criminal, or which infringes, otherwise violates, or advocates the infringement or other violation of, any third party rights.
Reservation of Rights
We reserve the right to request that you remove all links or any particular link to our Website. You approve to immediately remove all links to our Website upon request. We also reserve the right to amen these terms and conditions and it's linking policy at any time. By continuously linking to our Website, you agree to be bound to and follow these linking terms and conditions.
Removal of links from our website
If you find any link on our Website that is offensive for any reason, you are free to contact and inform us any moment. We will consider requests to remove links but we are not obligated to or so or to respond to you directly.
We do not ensure that the information on this website is correct, we do not warrant its completeness or accuracy; nor do we promise to ensure that the website remains available or that the material on the website is kept up to date.
Disclaimer
To the maximum extent permitted by applicable law, we exclude all representations, warranties and conditions relating to our website and the use of this website. Nothing in this disclaimer will:
limit or exclude our or your liability for death or personal injury;
limit or exclude our or your liability for fraud or fraudulent misrepresentation;
limit any of our or your liabilities in any way that is not permitted under applicable law; or
exclude any of our or your liabilities that may not be excluded under applicable law.
The limitations and prohibitions of liability set in this Section and elsewhere in this disclaimer: (a) are subject to the preceding paragraph; and (b) govern all liabilities arising under the disclaimer, including liabilities arising in contract, in tort and for breach of statutory duty.
As long as the website and the information and services on the website are provided free of charge, we will not be liable for any loss or damage of any nature.
Источник